Introduction
The US and Canada are hard to ignore when it comes to potential markets for cross-border expansion — and for good reason. Not only is the average North American consumer very comfortable shopping online compared to consumers in other countries, but there are also almost 400 million people to target.
But do you have what it takes to break into this lucrative market? In this article, we'll assess the potential of North America as a new market for UK brands and look at the strategies you need to succeed across the pond.
Growth of Cross Border Commerce in North America
The U.S. eCommerce market is huge and it's growing fast. Research shows it was valued at $875 billion in 2022 and is expected to be worth $1.3 trillion in 2025.
In Canada, the market might not be as large, but it's certainly as well developed. In 2022, for example, there were over 27 million eCommerce users in Canada — that's 75% of the total population.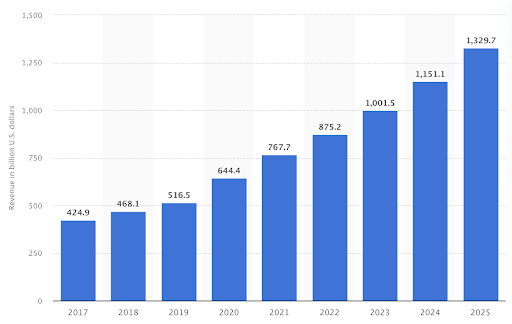 Research If Markets Are Ideal For Your Products
Global expansion can seem like an extremely exciting opportunity, and the statistics surrounding consumer behaviour in North America are extremely promising, but you need to do plenty more research before you dive in.
For starters, you must identify whether there is a market and target audience in North America for your products. Are consumers currently buying your goods from other cross-border providers? Or is the local market fulfilling the need?
You should also think about which parts of the North American market you want to focus on. Do you sell to both the US or Canada, one over the other or do you even focus on just one part of the US like New York or LA?
Do You Meet North American Regulations?
Another factor to consider when planning to sell products in North America is that the US and Canadian markets have their own unique product restrictions that will impact whether or not your brand can sell certain goods or products in the country.
It is essential that you research the regulations in place in North America and evaluate whether or not they will impact the goods you plan to sell in the country.
Some of the most common cross-border product restrictions that impact eCommerce include food, alcohol, other beverages and medication. If you sell consumer goods, however, you should be fine.
Identify How Prices And Taxes Impact Your Brand
As well as understanding North American regulations, you must also get your head around how international taxes and prices will impact your brand.
Do you know what tax you need to charge on goods in the US? Do you have a strategy to collect that tax? These are questions you need to be able to answer before you can start selling in the US.
Once you have established those tax requirements, you should conduct thorough competitor research to understand what pricing they use for similar products and the kind of overhead costs and distribution costs you should expect. By doing so, you can establish a competitive price for your products that ensures consumers are attracted to your offering while also allowing you to maximize profits.
Prioritize User Testing
Simply studying hundreds of cross-border eCommerce reviews is not enough to provide you with the knowledge and information you need to create an unrivaled shopping experience.
Instead, focus on conducting user testing on your North American website before launch to gain a much clearer insight into customer behaviour. Do not expect that customers in North America shop in the same manner as your home country. User testing gives you an insight into what to expect from US customers and will help you to identify features on your website that are lacking or that need to be made more prominent.
Utilize Third-Party Logistics Services
Selling into any foreign country can be a logistics nightmare for eCommerce businesses that don't have the right help or support. To ensure you do not experience any hold-ups that will impact customer satisfaction and you always fulfil orders quickly and efficiently, it is best to work closely with a third-party logistics company.
Many logistics companies have experience with cross-border eCommerce in North America and will help you navigate customs and tax issues, as well as ensuring parcels are delivered on time.
Pro Carrier is Your Partner for Cross-Border Commerce in North America
Pro Carrier takes the complexity out of cross-border commerce. We've helped dozens of leading UK brands ship across borders and into the US and Canada specifically. For more information on how we can help your growing brand, speak to an expert today.